With spring in the air, it is definitely time to enjoy the outdoors, so why not give Cottonwood Cove Park a try?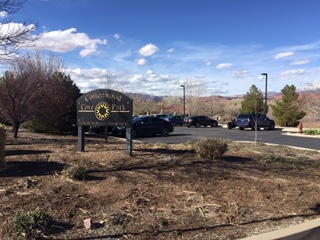 One of many park options in St. George, Utah, Cottonwood Cover Park is relatively new park. It's just one more reason people in the St. George area can get outside and explore. A place like Cottonwood Cove Park offers a wide variety of activities. Read on to see a little about what you can expect.
Parks in St George
There are so many things to love about visiting — and living in — the St. George area, not the least of which is the emphasis on parks. Whether it is leisure spaces for animals, recreational spots for families or plenty of gathering places for outdoor parties, you can have your pick. And Cottonwood Cove Park is just another great place to try.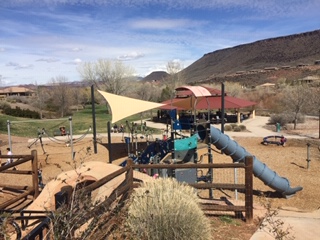 Cottonwood Cove Park
According to the City of St. George web site, Cottonwood Cove Park sits on 7 acres of land, giving people plenty of room to enjoy. Cottonwood Cove Park offers a unique playground structure (think similar to Little Valley Park's playground toys), along with two covered pavilions. Beneath the two covered pavilions are picnic tables, barbecues, and open space. Beyond the covered area Cottonwood Cove Park features two climbing walls, sand volleyball pit, horseshoe pit, restrooms, swinging benches and a great walking path.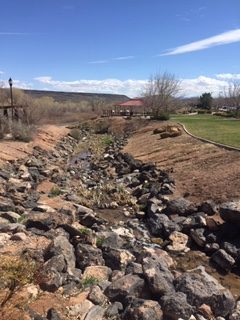 One unique element at Cottonwood Cove Park is the Santa Clara River Trail that runs through the park. In fact, having the sound of the water running through the park is extremely attractive to many visitors. There's just something soothing about the sounds of a babbling brook.
Experience Cottonwood Cove Park
If you're looking to host a larger gathering, Cottonwood Cove Park is an excellent choice. And you can even reserve a spot. Reservations can be made in four-hour time blocks: 7 to 11 a.m., noon to 4 p.m., and 5-9 p.m. The only restriction on reservations at Cottonwood Cove Park is during the St. George Marathon weekend. No reservations are allowed during that time — which is usually the first Saturday in October.
Cottonwood Cove Park is located on Dixie Drive, a little ways from the All-Abilities Park. This proves to be a great alternative location to the All Abilities Park if that one is too crowded. This is not to suggest that Cottonwood Cove Park takes second place to the All-Abilities Park. They're just very different and the latter is more well known.
Nicknames and other info
As often happens with so many neighborhood parks, Cottonwood Cove Park has a couple of nicknames. Some children refer to it as "the spinny park." Others call it by the name "exercise park." Generally park nicknames refer to the type (and sometimes the color) of the playground equipment. In the case of the nickname "exercise park," that certainly denotes the good that can come from playing on the wide range of toys. Or, if you're like one group playing on the grassy hill last week, running soccer plays with an oversized inflatable ball up and down the hill… well, it's certainly a lot of exercise.
A few regulations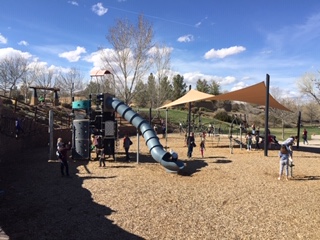 According to the City of St. George web site, there are some regulations to be aware of when playing at Cottonwood Cove Park. Really, these regulations hold true for many of the area parks.
Slip and slides and/or ice blocking are not allowed. These activities damage the turf and can be dangerous.
Park reservations do include power, but the outlets are not strong enough to accommodate a bounce house.
The park is open at sunrise and closes at 10 p.m. There may be some exceptions for specific special events.

Check it out
If you'd like to consider living in an area with such great emphasis on outdoor living, parks and recreation, check out these great home listings here.