All New Harmony Utah homes for sale along with full pixel images of them can be found below. New Harmony is a very small town consisting of a population of roughly 250 people. It is located at the west entrance to Zion National Park, just 25 minutes north of St. George and 15 minutes south of Cedar City.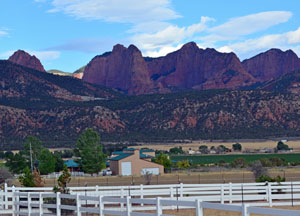 Nestled at the base of Pine Valley Mountain at an elevation of 5300 ft., New Harmony Utah enjoys mild summers compared to it's southern neighbor St. George and mild winters in relation to its northern neighbor Cedar City.
The magnificent five fingers of Zion can be seen on the eastern horizon of the New Harmony valley while Pine Valley Mountain towers over the town from the east. There are thousands of Cedar trees that dot the town of New Harmony amidst hundreds of acres of farmland. This landscape calls out inviting all to explore the nearby trails via hiking, horseback or ATV.
The original Mormon settlers embraced the name New Harmony as it referenced the unity and harmony that they wanted to engender during trials and hardships. The locals in New Harmony welcome others to take part in the peace and harmony that their town offers still to this day.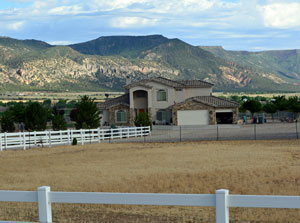 Many residents own horses while others raise livestock or crops. But, there are more and more people moving or retiring to New Harmony who just want to be amongst nature and the beautiful scenery that the town offers in great abundance.
New Harmony Utah has its own post office, and there is a nearby gas station and convenience store. But, if you want to catch a movie, dine out or do some serious shopping, you need only drive a short distance to St. George or Cedar City.
Below is a complete list of New Harmony Utah homes for sale. If you have any questions, please contact New Harmony Utah Realtor Joel Robertson at (435) 773-1220 or Joel@HomeInStGeorge.com.