If you're looking for something fun to do, check out the Ivins Reservoir.

Although the Ivins Reservoir has been part of the Ivins City landscape since the early 20th century, it has only recently become an even more popular place for recreation.
Thanks to the addition of the Fire Lake Park at Ivins Reservoir in June 2016, Ivins Reservoir is now a great place to go for water fun on a slightly smaller scale.
You get similarly stunning views of the area's red rock landscape as you find at Sand Hollow State Park. But Ivins Reservoir is a less crowded, and less swimmer's-itch-infested option. As long as you're not looking to use a motorized boat.
Background on Ivins Reservoir
Ivins Reservoir is an "off stream reservoir with a holding capacity of 500 acre feet of water used for irrigation and recreation," according to the Ivins City web site. It was originally built in 1918. It was later modified in 1943 and also in 1986 and 1994. During the 1994 modification concrete was poured to reinforce the dam.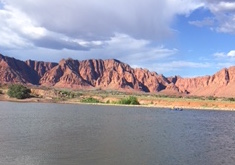 Fire Lake Park
Thanks to the vision of Ivins City Mayor Chris Hart, Fire Lake Park at Ivins Reservoir became a reality in 2016. Hart's vision included making the area more enjoyable for recreation by including a sandy beach and a reliable water level, according to the Ivins City web site. The recreation site is cooperation between the Washington County Water Conservancy District, Shivwits Band of Paiutes, Washington County, Ivins Irrigation Company and Ivins City.
Fire Lake Park was created from a section of the reservoir. It is a four-acre swimming bay with a constant water level. However, all the average person visiting Ivins Reservoir will likely notice is that it is an ideal spot for locals and visitors to enjoy.
The name "Fire Lake" came from the Shivwits name for the reservoir, according to an article by St. George News. The park itself is located inside the borders of the Shivwits Reservation for the Shivwits Band of Paiute Indian Tribe of Utah.
According to the St. George News article, the band retains the rights to build a concession to rent canoes and paddle boats. As of this posting no concession exists at present.
For anyone interested in renting kayaks and other water toys, there are several places to rent them. One example is Outdoor Rush in St. George. They offer kayak rentals for full or half day. Single and double occupancy. You can also rent paddle boards and other water toys. All of which can be fun to use at Fire Lake Park.
Rules of the reservoir
In order to maintain this beautiful piece of land, there are a few rules for Fire Lake Park at Ivins Reservoir.
No dogs allowed in the new beach or swimming area.
Dogs on a leash are allowed only in the large portion of the reservoir.
There is no marina or dock, so no motorized boats are allowed.
There are no fish in the new portion of the reservoir. Fishing is allowed in the main larger reservoir area.
The reservoir is open year round.
Ways to enjoy Ivins Reservoir
If you're looking to enjoy Fire Lake Park there are several things to try.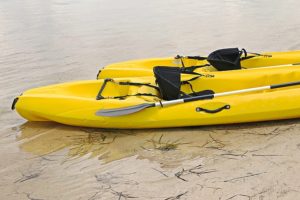 Rent or bring your own kayak, canoe, paddle boat or other means of non-motorized water transportation.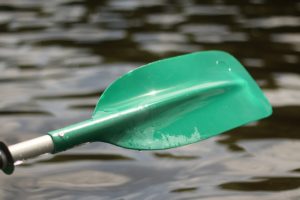 Relax on an inflatable water toy.
Pack a picnic and enjoy the sandy beach for a morning, midday or evening meal.
Sand buckets, shovels and other beach-type toys are great for this beach area that surrounds the Fire Lake Park at Ivins Reservoir.
Don't forget the shade. Natural shade is almost non-existent at Ivins Reservoir. Bring along a pop-up tent or something else to keep you out of the sun's rays.
Bathrooms are available on site.

Directions to Ivins Reservoir

Drive west on Sunset Drive from St. George through Santa Clara on Highway 91. Turn right immediately after the entrance to Kayenta. There is a sign for Fire Lake Park at Ivins Reservoir. Parking is somewhat limited.
If you would love to live near the beautiful Ivins Reservoir, check out homes available here.