In case the date is sneaking up on you as it seems to be for many, Thanksgiving is right around the corner. And you know what that means: It's time for pies St George.
Even if you like to cook Thanksgiving dinner, it's likely you'll soon be up to your eyeballs in turkey, stuffing and mashed potato prep. So why not give yourself on one aspect of the traditional meal and order up dessert from one of the several places offering pies St George.
Why pie?
Whether it is pumpkin, apple, cherry or cream, there's a good chance your Thanksgiving meal is going to end with one of these traditional desserts. But why?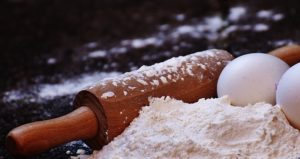 Evidently the history of pies goes back centuries; back to a time before they were even filled with sweets. Because as you may know, pies were filled with meat, up until the 14th century, according to a pie history on Marie Callender's web site. Even then, sweet pies didn't gain additional popularity until the 16th century when the price of sugar decreased. Before then there were a lot of fish pies — in order to keep in line with the Church of England's decree to have certain meat-less days.
With sugar more readily available pies made with a candied orange peel, apples flavored with saffron, as well as pear pie.
As for Thanksgiving and its traditional pumpkin pie, well, that seems to have become more commonplace as of the late 1700s.
As for pumpkin being the most traditional Thanksgiving pie — and the oldest one — it isn't alone in the category of favorites. Pecan pie has been part of many a Thanksgiving meal since the 1920s. Now there's cherry, cream-filled, mince meat, rhubarb, peach, apple, raspberry… the list goes on and on.
Buying pies St George
Perhaps you fall into the category of pie lover, but not pie maker. Pies St George are available from numerous local locations. The key, in some cases, is to get your orders in soon.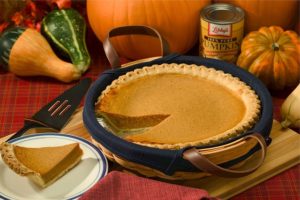 Croshaw's Pies St George
One of the names synonymous with pies St George is Croshaw's Gourmet Pies. Known for year round fantastic pies, they are, of course, extremely popular at the holidays. Especially when you consider the number of people who prefer to purchase pies St George rather than making them.
This pies St George establishment has been part of the pies St George landscape since 1991. According to the Croshaw's web site, the Croshaw's pies St George was started when Greg Croshaw, the local college football coach, and Ron Lloyd joined forces to start the restaurant.
At Croshaw's pies St George you can opt for meat potpies, sandwiches, soups and salads. But of course this time of year people are most interested in pies St George. And there are plenty of flavors to choose from. Thirty-four flavors to be exact. For a complete list, you can check out their web site. But suffice it to say, experienced Croshaw's pies St George diners rave about everything from the sour cream lemon to the key lime, coconut, French apple, Verry Berry, raisin and more. You can even enjoy seasonal selections such as mince, fresh strawberry and fresh peach.
Veyo Pies
While located just outside the St. George area, Veyo pies is definitely considered an integral part of the pies St George landscape.
It all started more than 30 years ago when Evelyn Daniels owned the Veyo Mercantile with her husband, Larry. Evelyn started making pies in order to increase traffic to the store, according to the Veyo Pies web site. It worked so well it was soon too much for one person to handle. She brought in Evalyn Yaw to handle the pies St George portion of the business. Evalyn Yaw brought in her own recipes.
As time went on, the pies portion passed to others, but always someone who was trained in the important art of making the best pies St George.
So even when the Veyo Merc closed its doors in 2008, Devaney Lomenick, who trained with Evalyn Yaw, kept the pies St George portion going.
If you're looking to place a holiday pies St George order, you can do it now. The form is available on the Veyo Pies web site. Pre-payment is required.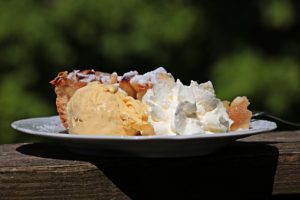 The menu for this pies St George stop includes several combination pies. Rasberry rhubarb, for example. Or cherry raspberry. And Mountain Berry which combines blueberry, raspberry and blackberry. Then of course there are all the classics including pumpkin, apple, pecan and more. You can even opt for cheesecake in place or, or in addition to pies St George.
No matter what you choose, Veyo Pies is one of the most popular places for pies St George.
More pies St George
There are several other places to get your holiday pies St George. It all depends on your schedule, flavor preference and more.
According to online reviews at Yelp.com, popular pies St George spots include, but are not limited to the following:
Croshaw's Gourmet Pies
Village Inn
Kneaders Bakery and Café
Strawberry Creek Bakery
Cornerstone Café and Bakery
Rowley's Red Barn- Dixie
The local grocery store bakeries are also an option for getting your hands, and your taste buds, on a pies St George this season.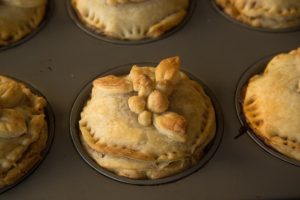 If you can't wait to taste the flavor of some of the delicious pies St George, and want to live near enough to enjoy, check out these great home listings here.