If you're looking for a great way to get outside, enjoy the fresh air and a beautiful view without driving too far, Webb Hill St George may be the place for you.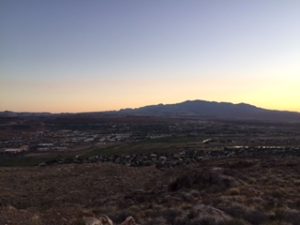 Webb Hill St George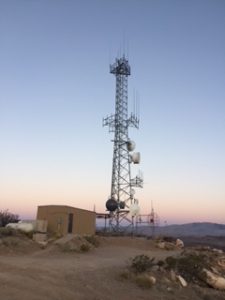 With its broadcasting tower antennae towering over the Bloomington Hills area of St George, Webb Hill St George serves a utilitarian purpose, as well as a place for recreation. It's also relatively recognizable for locals in particular. Most people have seen Webb Hill St George, even if they don't recognize all it has to offer.
According to www.traillink.com, Webb Hill St George offers a significant trail system. And it is part of a significant trail system. Some of the perks of Webb Hill St George include:
* trailhead accessible by car
* a couple of parking spots at the trailhead
* paved trailhead
* great views
* quiet and peaceful
Geology of Webb Hill St George
Similar to much of the surrounding St. George area, Webb Hill St George features reddish colored soil and rocks. This is because of the iron oxide present in the soil. The hill itself is not huge. It reaches 3,140 feet in elevation at its highest point and is 1.3 miles from east to west and 0.5 miles from north to south.
Yet within those relatively small parameters there are several things to be explored.
Hiking trails | Webb Hill St George
To start out, many people prefer to simply follow the service truck road to the top of Webb Hill St George. The road is dirt, rough in some spots and wide enough to avoid losing the trail. Partway up there is a gate to keep vehicles (other than service vehicles) from driving to the top. But hikers can simply navigate around this gate.
Kentucky Lucky Chicken
Other trails include the relatively new Kentucky Lucky Chicken Trail. This trail, while technically a mountain biking trail, has been enjoyed by trail runners as well. It starts about a quarter-mile past the pavement on Hillrise Avenue. There is a well-marked trailhead. It's about 3.8 miles but has been deemed a difficult trail by members of the Dixie Mountain Bike Trails Association. An "intermediate-plus" trail to ride.
According to an article by Lukas Brinkerhoff, the president of the Dixie Mountain Bike Trails Association, the trail name itself has a clever beginning.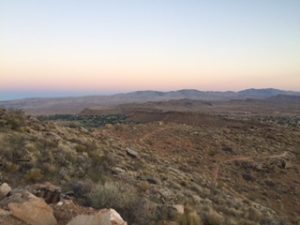 When Brinkerhoff was out looking for the route or to put in the actual trail, he found an old KFC bucket. As a vegetarian, "my find somehow turned into the chicken being lucky — even though it wasn't lucky because it had already been killed and eaten," Brinkerhoff's article states. But somehow the name stuck. And the trail is now called Kentucky Lucky Chicken, or KLC for short.
The trail itself has been in the concept stage for three or four years. Actual work started on the trail in August 2015. It could not have been accomplished without the help of so many regular volunteers.
Other paths
Although perhaps not so well marked, Webb Hill St George offers a variety of other trails to explore. Leading off the main road, there is a white pole just above the Kentucky Lucky Chicken trail, but on the opposite side of the road. If you follow this trail down and up, you eventually get to a nice outcropping of rock structures. These are perfect for bouldering. Or just allowing kids young and old to scramble around.
Views from the top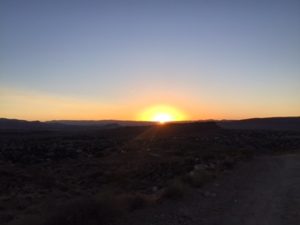 On any given morning, a trip to the top of Webb Hill St George crosses paths with several other people who have had the same idea. A close-to-home way to get some cardio exercise with elevation change.
When you reach the top, you'll want to be careful getting too close to the broadcasting towers. But if you wander between them, the reward is a 360-degree view of St. George.
Naturally, during the summer, the earlier you leave the better. Which also allows for some great sunrise views on your way back down.
Webb Hill St George tales
According to an article posted by St. George News, Webb Hill St George is also the site of a mystery involving the remains of a body that dates back to 1918. The bones and some clothing were found in 1998 in a little cave. They were exhumed by authorities. A scientist specializing in facial reconstruction took the project on, hoping someone would recognize the face of "Little Webb." Stories abound as to the boy's origin.
In 2004 KSL.com released an article delving once again into the mysterious surroundings of "Little Webb's" death. According to Todd Gabler, a private investigator, the remains found were of a 16-year-old male.
One theory, is that the boy succumbed to the influenza pandemic which killed roughly 600,000 Americans at that time.
Just why he was in this place, alone, is not certain.
More recently, in May 2018, a car drove off the steep side of Webb Hill St George, killing the driver, according to police.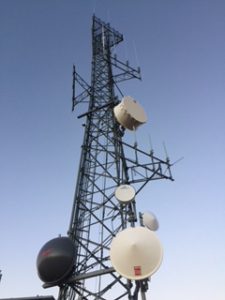 Worth the climb
Whether you're looking to up your exercise plan, or just get a breath of fresh air, Webb Hill St George is worth the climb. Peaceful. Scenic. Storied. It's the perfect place to experience some of the Southern Utah hiking flavor, without having to go too far out of town.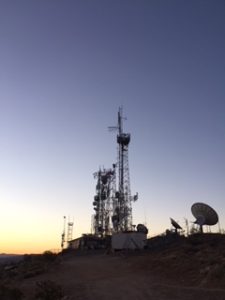 If you're interested in living near such a great hiking destination, check out these home listings here.