Get a feel for the beauty of southern Utah by biking, walking or running the Mayor's Loop St George.
Lately I've been trying to mix up my exercise routine. Adding a day of cycling has been the perfect mix. You just can't beat the spring and summer weather for getting outside to enjoy southern Utah! As long as you go early in the morning.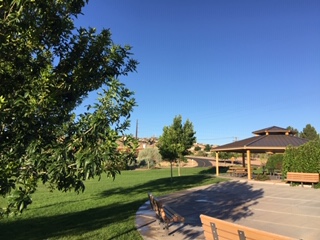 Easy Access to Mayor's Loop St George
You can hop on the Mayor's Loop St. George from any number of entry points along the path. One of the great things about the trail system in St. George and the surrounding area is how accessible it all is. If you happen to live in one of the neighborhoods near the Mayor's Loop, you likely have trail access near your home. Areas like St. James, Bloomington Hills and others fall into this category. If you aren't in one of those areas, don't worry. The trail is still open to you too! You can drive to St. James Park or Confluence Park and leave your vehicle while you make the loop.
Basic Stats of the Mayor's Loop St George
The basic info for the Mayor's Loops St George includes the following:
* Distance: 5.56 miles
* Climb: 256 feet
* Maximum Elevation: 2,693.83 feet
* Access Points: Confluence Park, 2099 S. Convention Center Drive, St. George, UT and St. James Park, 741 St. James Ln., St. George, UT
Enjoy the scenery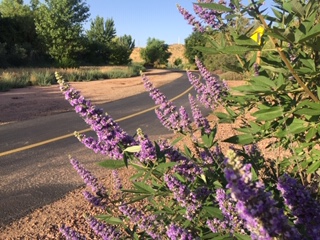 Of course the scenery on the Mayor's Loop St George changes with the time of year. Spring and summer bring wondrous colors, like these beautiful purple buds. You can also witness the hardy nature of some of the plants in southern Utah. Like these white blossoms. They are really showing what it takes to make the best of life between a rock and a hard spot. It feels like a great metaphor for life.
There's something about riding a bike or walking or running through nature that allows for this kind of introspection. Clearly, getting outside for some exercise has a host of other benefits beyond elevating your heart rate.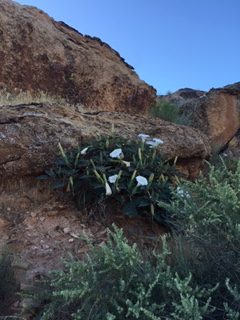 Rules of the Road
While enjoying the Mayor's Loop St George, please remember the rules of the road. Courtesy, if nothing else. Keep your bike, or your body if you're walking, on the right side of the yellow line. Similar to driving on a regular road, there are helpful dotted and solid lines along the path, making it easy to see when passing is safe and when additional caution should be exercised.
For more information on any of the rules of the trail, check out St. George City Leisure Services here.
Close To YOUR home
If you think living in an area with access to such beautiful trails, check out these great home listings. here.