Take a drive down St George Boulevard and you can't help but see the sign featuring a boy holding a giant hamburger for Larsen's Frostop.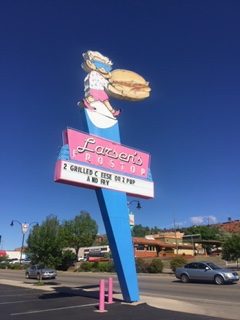 Larsen's Frostop | Area Landmark
More than just an eye-catching sign, the boy carrying the giant hamburger is a bit of a landmark for longtime St. George residents. Larsen's Frostop Drive-In has been part of the area's restaurant landscape since the 1960s.
Change of Career
According to the Washington County Historical Society of Utah, the business was started by Gale and Darlene Larsen, formerly farmers in the Uintah Basin. On the side, Gale drove a route for Wonder Bread. During that job he became acquainted with the owner of a Frostop franchise in Duchesne, Utah. The success of that particular business gave Gale the confidence to give his own piece of the Franchise a try.
What is the deal with the sign?
Originally, the Frostop franchise was a nationwide chain of root beer stands. At its peak in the 1960s, there were roughly 350 such root beer stands across the country. When the Larsens opened Larsen's Frostop, they stuck with the original 14-foot rotating root beer mug sign — which was used for most of the franchises. However, in the early 1980s the Frostop franchise went out of business. Gale and Darlene Larsen opted to continue on as a privately owned restaurant and the current boy with a hamburger sign was born.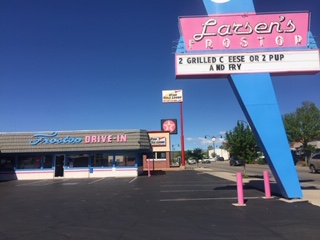 Larsen's Frostop changes hands
Although Gale and Darlene Larsen ran Larsen's Frostop for many years, in 2002 they decided it was time to retire. They passed the hamburger spatula over to Nathan McCleery, according to the Washington County Historical Society web site. McCleery was a local school teacher who longed to become an entrepreneur.
Then, in 2008, Larsen's Frostop was purchased by Kim and Andra Garrett who still run the store today.
Larsen's Frostop Favorites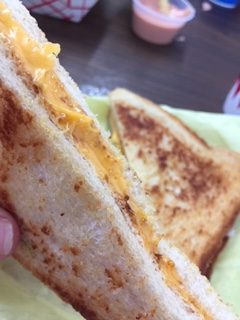 There are so many memories wrapped up in a place like Larsen's Frostop. For anyone growing up in the St. George area, this little hamburger drive-in served as a meeting spot with friends after the football game, a place to cool off with a cold drink or dessert in the summer. It was also a great place to scope out the happenings on St. George Boulevard back when dragging the boulevard — particularly during spring break — was the popular thing to do.
But it's not just a place for high school hangouts.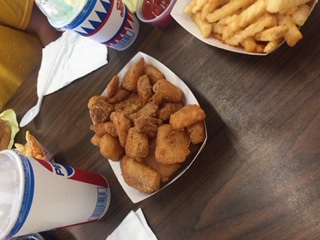 Larsen's Frostop serves up a quality burgers, fries, shakes, grilled cheese sandwiches, ice cream and more. One of the popular frozen treats on the menu is the Glacier.


Cold and sweet
If you've never had a Glacier, think of it like a snow cone, but with way more juice. And the option of ice cream in the middle. The Glacier comes in a variety of flavors including blue raspberry, black cherry, kiwi, fruit punch, grape, root beer, tiger's blood, watermelon and more. Once you select your Glacier flavor, you can keep it as is in the Slushie form (just ice and flavoring), or you can add soft serve vanilla ice cream to complete the Glacier.
Frostop Memory Lane
If you're among the many people who have fond memories — both new and old — involving Larsen's Frostop, go ahead and leave it in the comments below. Or, if you're looking to make some memories living in a community with great local restaurants like this, check out these great home listings here.